This page is to give you ideas on what printed media (paper, canvas, metal, acrylic) and how to arrange photographs. Examples shown are my photography in my home, and my clients homes. If you want to mix and match with work from other photographers, I am happy to let them know where I order from so that you can get the same end product.
Cut paper (craft paper, wrapping paper, parchment paper, paper bags) to size and try different placement or arrangements for one or more wall hangings. 
The arrangement shown below is suggested by my print company. However, after putting it on my wall, I realized it needed to 'walk up the stairs'. I swapped it around and viewed it from various places in my family room for several days while planing which photos should go where. Eventually I ordered and hung the canvas images. 
I am happy to give you a computer mock up of an arrangement, and adjust it until it's exactly what you want.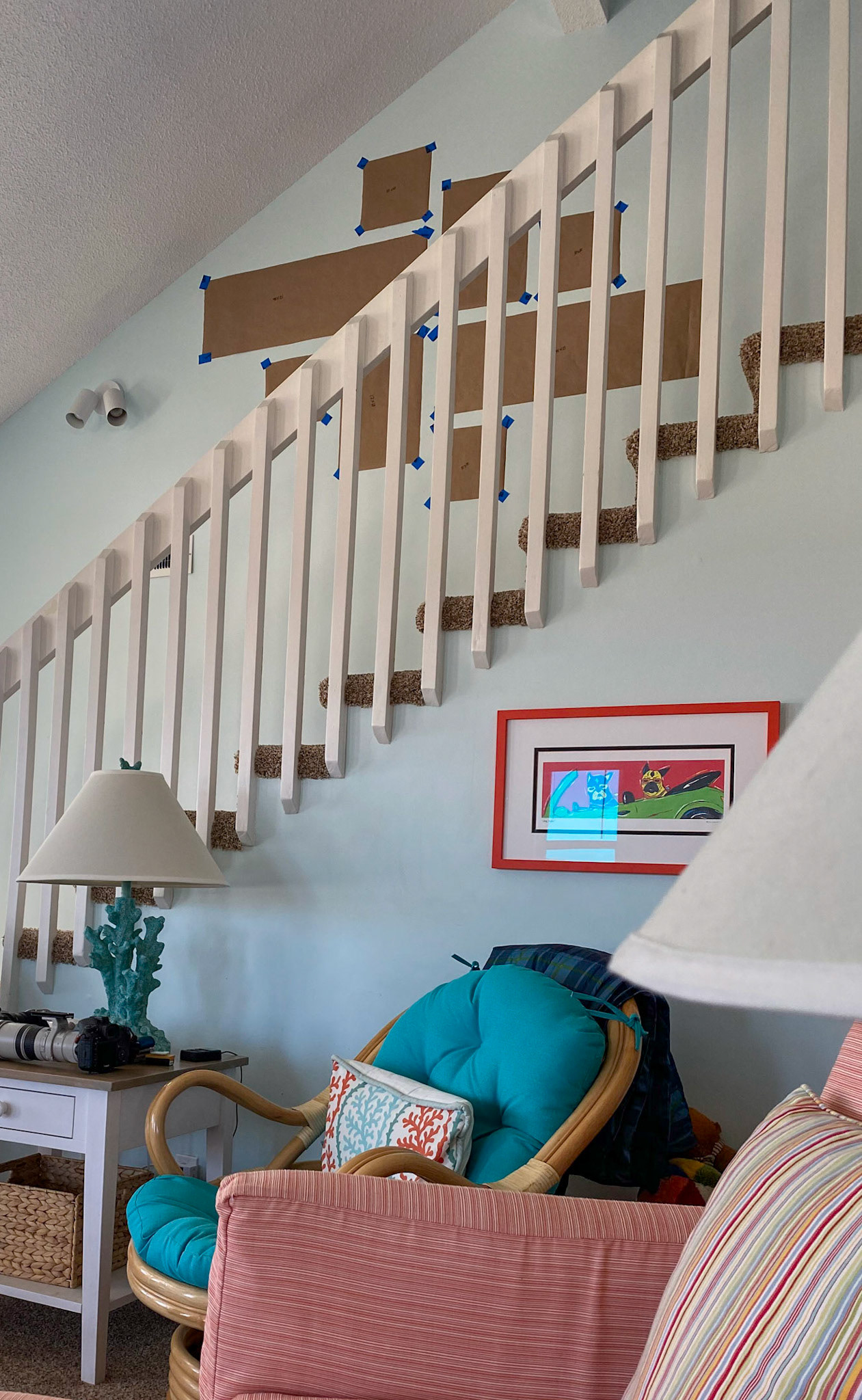 When our brains look at art, they fill in the missing pieces for us. For example, a photo of a dog in which the feet are cropped out... your brain, will add the feet in your mental image. Think about this when arranging your art display so that you don't put an image in a place where the brain comes up with a weird solution for completing the image. You'll know it looks weird, but you might not realize why.
For example, when these images were first hung in the stairwell at OIB town hall, the osprey was about to fly into the wall while the tricolor heron was staring into a corner as if it had been punished. I suggested that if it is not too much trouble, swap the two image. Now the osprey soars while the heron and egret look as if they have something to look at. 
I can flip any image on the vertical axes to make it 'face the other direction', just let me know. If you look through the arrangements on this page, you'll see plenty of examples of taking this into consideration. 
Have a faded, worn out framed print - you can reuse the frame and maybe the mat board to save money. I can walk you through removing the paper backing, and materials holding the image in place and measuring. Then I provide low resolution test prints to help you decide what will work best in your intended space. Once you make a final selection, we order and I can help reassemble the image into the frame. 
Don't be afraid to mix and match print media, framing techniques, etc. Do what makes you happy! 
Example 1: Top image is paper print in wood frame. Bottom image is canvas print in wood frame I already had.  
Example 2: Top image is paper print in floating frame from craft store, letting the wall color show through. Bottom image is paper print in frame I already had with precut mat from craft store. 
Example 3: Top image is paper print on floating frame from craft store, with bottom image a paper print in frame I already had. I arranged these to give the effect of the moon over the ocean sunset. 
Choose media types to complement your budget, your style and the photograph. I have photographs printed on various media in my home to help you understand how an acrylic looks versus a canvas print. Besides offering you low resolution test prints, I can loan you an image on a specific media to try in your space - the heron hung over the white leather chair - these clients took home several test paper prints, a framed paper print, and the small acrylic of the egret escaping the crab to help them decide what to order. 
Canvas prints can be framed or unframed. I prefer the clean lines of the unframed canvas print especially on my gallery wall. 
Acrylic prints compliment modern decor, but they do reflect a lot of light making them difficult to view if placed in bring light. 
Brushed metal prints enhance a rustic feel or a mood such as fog. 
Glossy metal prints enhance photos with clear reflections or bold colors like sunrise/sunset. 
Paper prints with a stylish frame can go with any decor. Use existing frames to save money. 
Table top prints can bring a pop to side tables, bookshelves, or nightstands, especially in our beach homes where we prefer windows to walls.
You can start with a concept and a goal then add to it over time. After 20 years of a blank staircase wall, I decided to add a gallery wall. I selected a grouping layout that included what I felt would be the hardest size photo to add in later, the panoramic, then expanded the wall over two years - and I am not done yet. Similarly, I added brushed metal prints in my home office over several years.